A delicious cheesy enchilada rice skillet casserole recipe, perfect for an easy weeknight meal. Ready under 20 minutes!
Just yesterday I posted our favorite homemade enchilada sauce and now I am going to share a delicious meal we love pairing it with. This recipe really is so easy, it's one of my go-to recipes during a busy week.
It is also one of my recipes where I love leaving meat out, it's down the cuts. The hubby is a meat-lover, he doesn't even know there isn't any in it. The beans and rice really stretch it out, sort of like how beef or chicken will do.
If you really want to add in any chicken or beef, add in 1 cup of chicken or ½ pound of ground beef.
Let's take a quick break from this meat talk. As I am sitting here writing this post, I am listening to the new Taylor Swift's album - 1989. I really did not think I would like it because I am a die-hard country fan, loved her when she was doing country. Now this album is definitely pop, not my thing, but I love it for some reason.
I will never actually admit that to my hubby because he would kind of make fun of me, LOL. Have you listened to it yet? It's great working music.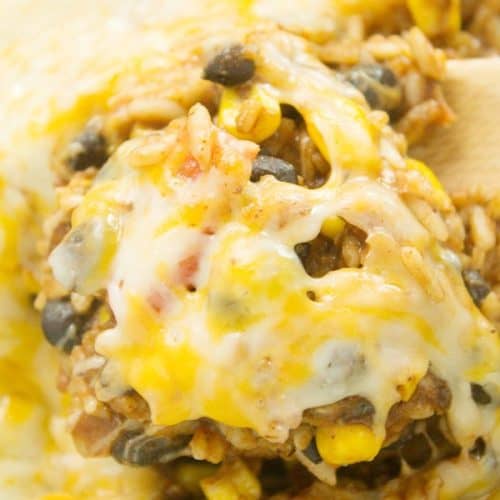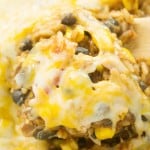 Cheesy Enchilada Rice Skillet Casserole
Ingredients
1

cup

cooked rice

1

cup

homemade enchilada sauce

1

15 ounce can of black beans, drained

1

15 ounce can of corn, drained

½

teaspoon

dried oregano

½

teaspoon

cumin

1

cup

shredded cheese

I used a Mexican Blend
Instructions
In a large skillet, combine the rice, enchilada sauce, corn, dried oregano, and cumin. Allow it to simmer on medium-heat for 10 minutes. Mix in ½ cup of the cheese, mix together.

Turn the oven broiler on high, sprinkle the other ½ cup of cheese on top and broil until the cheese is melted.

Garnish with fresh cilantro, optional.