A delicious caramel chocolate chip cookie bar recipe that is filled to the max with caramel filled morsels, Nestle Toll House DelightFulls! So easy and absolutely delicious!
Ever since I was a little girl, I already remember having cookies for Christmas, all kinds, too. Not only did we just have them for Christmas, but we always put extra cookies out for Santa. I looked forward to that each and every year and I cannot wait to share that when we have children. I always love thinking about and remembering those precious moments.
Do you have any memories from the holidays that you really love? If so, please share - I love to hear stories! As a child, did you also have cookies for Santa? I do not remember any certain flavor of cookies we left out, I think they were different each year. They weren't anything extravagant, just the usual like chocolate chip or plain sugar cookies. They were always delicious, I do remember that!
Since Christmas is coming up, right around the corner, we can start to think about what kind of cookies we should leave out this year. There is a brand new line of morsels out this year, Nestle Toll House DelightFulls, and we are including them in our cookies this year. Well, not just cookies, but cookie bars - I think anyone would love them. If you haven't heard of them just yet, you really should give them a try. We love them because they add an extra pop in flavor - they are filled. You can find them in four different flavors: Milk Chocolate Morsels with Caramel Filling, Milk Chocolate Morsels with Peanut Butter Filling, Dark Chocolate Morsels with Mint Filling, and Dark Chocolate Morsels with Cherry Flavored Filling.
We purchased two different varieties because we wanted everyone to have a selection of flavors. Now these caramel chocolate chip cookie bars are really easy to make. It does not require a stand or a handheld mixer, you can just use a plastic spatula. Now if you choose to use a mixer, you most certainly can.
If you are looking for additional recipes to use these brand new filled morsels with, you can visit the Nestle Toll House website to discover more DelightFulls recipes and how they can put a twist on your holiday baking! If you do create a recipe, please share your recipe using #DelightFulls.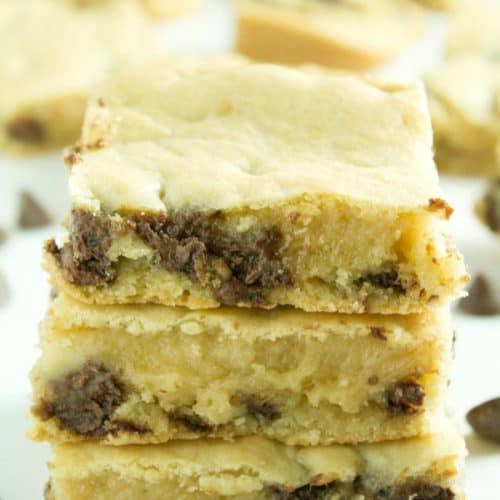 Caramel Chocolate Chip Cookie Bars
Ingredients
½

cup

1 stick unsalted butter, softened at room temperature

1

cup

granulated sugar

1

large egg

1

teaspoon

vanilla extract

¼

teaspoon

salt

2

cups

all-purpose flour

1

teaspoon

baking soda

1

teaspoon

cornstarch

1

cup

Nestle Toll House Milk Chocolate Morsels with Caramel Filling
Instructions
Preheat oven to 375 degrees. Line a 9x9 baking dish with parchment paper; set aside.

Cream together the butter and granulated sugar in a mixing bowl; mix in the egg, vanilla extract and salt until combined. Slowly add in the flour 1 cup at-a-time until it is mixed in with the batter. Gently fold in the baking soda and cornstarch, then then in the milk chocolate morsels with caramel filling. Pour the batter into the baking dish and spread it out evenly. Bake for 25 minutes or until the tops are golden brown.

Allow the bars to completely cool before removing. Slice and store in an airtight container for 1 week.