This Shrimp Scampi Crostini is the perfect addition to your holiday party menu or even for game day! It's simple, it's elegant, and it has the perfect butter, lemon, garlic ratio! Impress your guests with incredibly flavorful and easy crostini.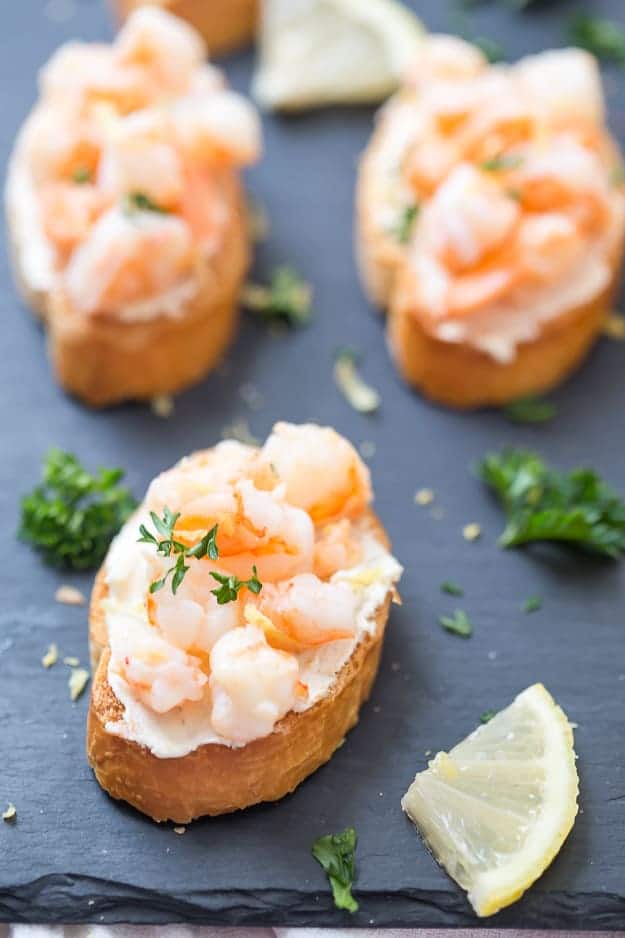 SHRIMP SCAMPI CROSTINI
PIN IT TO YOUR APPETIZER BOARD ON PINTEREST TO SAVE IT FOR LATER!
During the holidays my family always love a delectable appetizer, and this shrimp scampi crostini will surely impress! The best part of these crostinis, they are so simple and take no time to whip them up! You can even serve the shrimp scampi warm or cold, completely up to you. We had it cold for dinner the day I made them, and they were still absolutely delicious; however, I do prefer them warm.
What's your favorite part of the holidays? The food? The family fun? The movies? I love it all! It's one of my favorite times of the year, not because of the weather, it's just the food, family, and the holiday movies (my favorite!). I cannot get enough, especially holiday appetizers and side dishes! Good thing calories don't necessarily count during this period, well, at least for me it doesn't. If I knew how many calories I consumed during the holidays, I would feel so guilty, so I decided not even to look at them.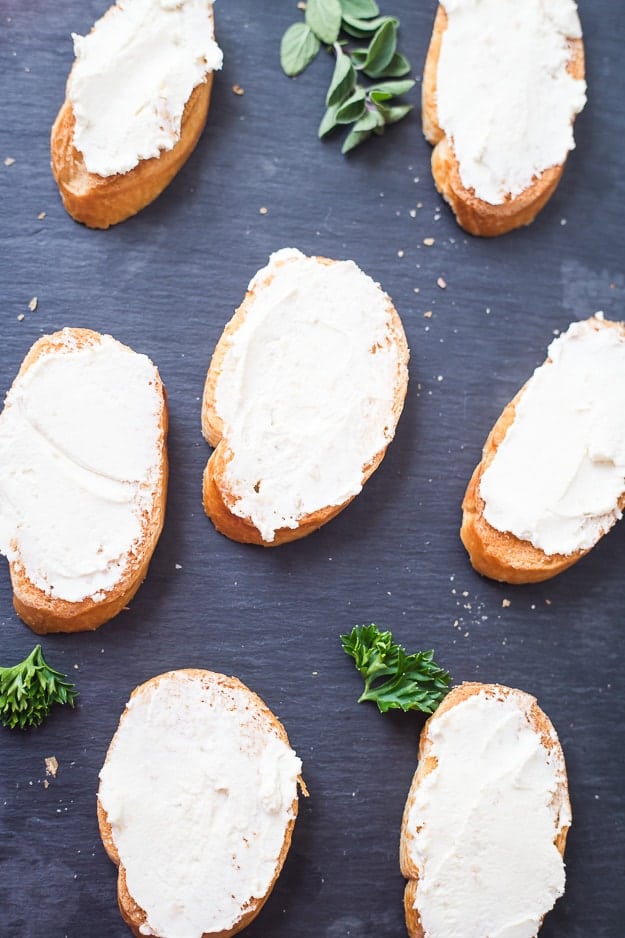 If you have ever had shrimp scampi before (Oh my gosh, who hasn't?) you know the sauce consists of butter, I used premium butter because it does make a difference, garlic, and lemon zest and juice. Speaking of lemon zest, I had never had a proper zester before (shocker!) so I picked up one at Home Goods the other day and I am in love. It makes me want to zest everything! Lemon zest in water is a thing, right? It's the best and SO EASY.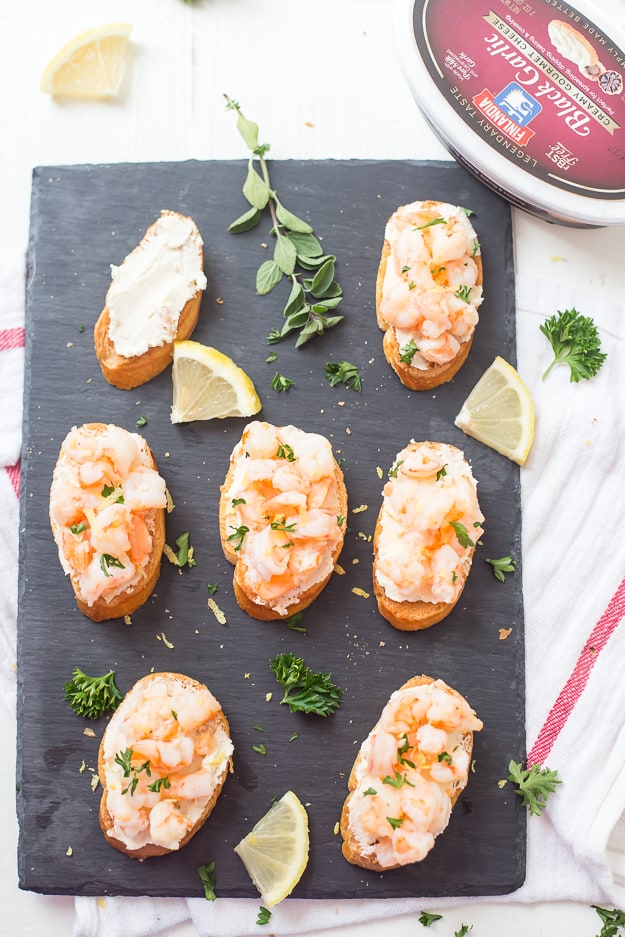 Instead of adding a lot of fresh minced garlic to the sauce, I decided to use a new favorite product called Black Garlic Finlandia Creamy Gourmet Cheese. It's the best! And the best part is it pairs perfectly with this shrimp scampi nestled on top. Just talking about this shrimp scampi crostini makes me want to make another batch now. It's creamy; it has the perfect garlic flavor, and we love to use it as a spread and a dip. No wonder why it's so good because it's made with the purest milk from Finnish family-owned farms doesn't have any artificial flavors or added hormones. So the next time you are at your store, look to see if you can find it because you will not be disappointed!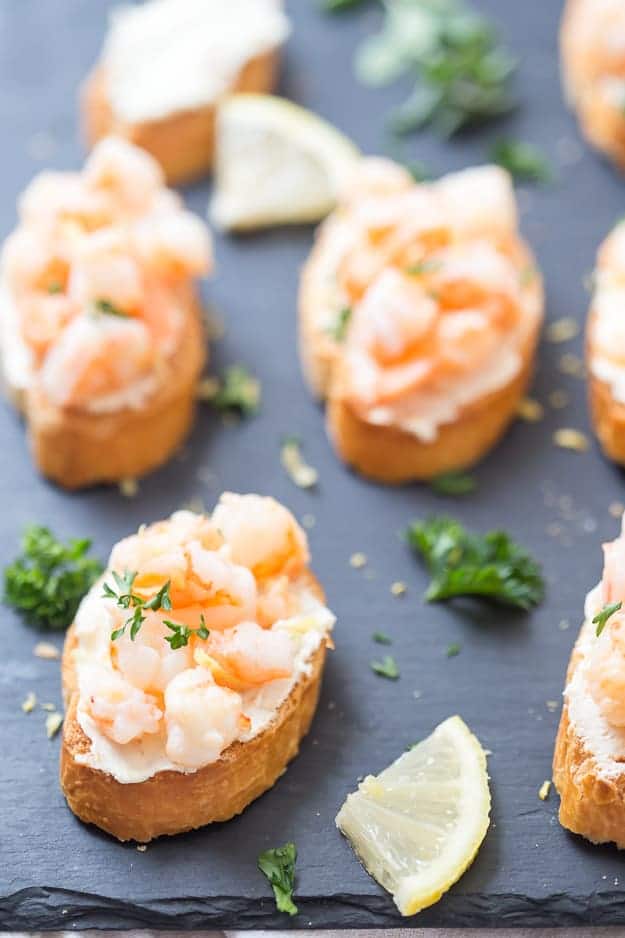 Make sure to follow Finlandia on Pinterest, Facebook, Twitter, Instagram, and Youtube!

Shrimp Scampi Crostini
Author:
Chelsea @ Gal on a Mission
Ingredients
Shrimp Scampi
2 tablespoons unsalted butter
2 garlic cloves, minced
1½ teaspoons lemon zest
2 tablespoons lemon juice
splash of white wine
1 pound shrimp, deveined, peeled, and diced
salt and pepper, to taste
Crostini
1 french baguette loaf, sliced into 1" pieces
olive oil
7-ounce container Finlandia Black Garlic Creamy Gourmet Cheese
Garnish
Instructions
Shrimp Scampi
Place the butter in a large skill over medium heat until the butter has melted.
Add the garlic, lemon zest, lemon juice, and white wine to the skillet and allow it to simmer for 4-5 minutes.
Add the shrimp and stir frequently until the shrimp are cooked.
Crostini
Meanwhile, place the sliced bread onto a large baking sheet and add olive oil to each piece. Broil on high until lightly browned.
Spread the black garlic cheese on top of the crostini, add the shrimp scampi mixture and garnish with lemon zest and fresh parsley.
This is a sponsored conversation written by me on behalf of Finlandia™ . The opinions and text are all mine.