Secret Ingredient Easy Chocolate Mousse Recipe (Low Carb, Keto) - Create your amazing and incredibly easy chocolate mousse! The secret ingredient creates a whipped mousse that's secretly healthy. I bet you will not even be able to guess the secret ingredient!
Since beginning my keto journey, you can read about how I survived my first week on keto (low carb ketosis) here; I haven't had any desire for sweets. I have been completely satisfied with fat. I mean who wouldn't be? So the other day I had a little sweet craving, and I didn't want to make anything too complicated. So here it is - easy chocolate mousse!
The meaning behind the secret ingredient. I call it a secret ingredient because I wasn't going to originally add it in, but it had to be used as soon as possible, or it was going to hit the trash. Avocados are like gold around here, we hoard them and do not waste them!
I love sneaking avocados in recipes! Have you tried our dairy-free fudgicles? They are not low carb, but they can be easily adapted.
So what's the secret ingredient? Any guesses? AVOCADOS!! Avocados are like gold around here, we hoard them and do not waste them! I didn't want to add avocado to the title of this recipe because I knew you wouldn't try it if it had avocados in it, my family at least wouldn't. It also wasn't my idea to add the avocado to the recipe in the first place until I noticed it HAD to be used soon.
When hubby came through the door after work, I told him he had to try a spoonful of this easy chocolate mousse I just made. He tried it and LOVED it; of course, I didn't tell him there was avocado in it. His response if I told him before he tried it, "Ewwww. That sounds weird and gross." But it wasn't. It was the most delicious dessert ever, in my opinion.
To sweetened this secret ingredient easy chocolate mousse, I recommend using Swerve or something similar. If you are only using Stevia drops, please taste after you add a drop, and then taste to your desired sweetness. Stevia is much sweetener, and a little bit goes a long way.
These easy chocolate mousses be perfect to serve at a birthday party, as well! So easy and delicious! Are you thinking about serving these easy chocolate mousses it at a boys' birthday party, these 112 birthday cake ideas for boys would be so much fun!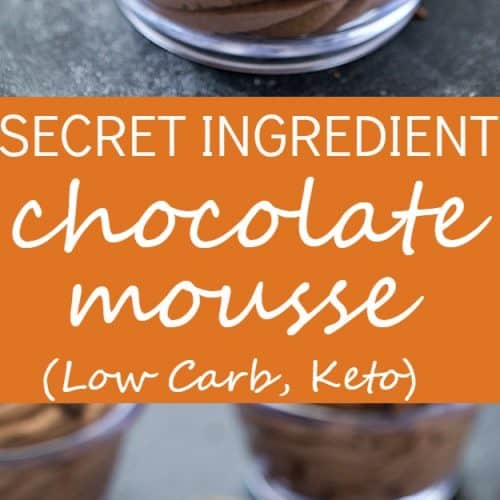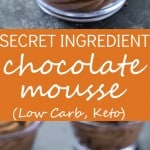 Secret Ingredient Easy Chocolate Mousse (Low Carb, Keto)
Ingredients
8

ounces

cream cheese block

softened

¼

cup

unsweetened cocoa powder

½

large avocado

pitted

⅛

teaspoon

vanilla extract

2-3

tablespoons

of desired sweetener

I recommend Swerve.

¼

cup

heavy whipping cream

90

% dark chocolate shaved

to garnish
Instructions
Beat together the cream cheese until creamy and smooth using a handheld mixer in a medium mixing bowl. Slowly mix in the cocoa powder. Beat in the avocado and mix until creamy smooth, approximately 5 minutes.

Add the vanilla extract and sweetener and beat again until smooth, approximately 1-2 minutes.

In a separate mixing bowl, whip the heavy cream until stiff peaks form.

Place the whipped cream in the chocolate mixture and gently fold until it's incorporated.

Place the chocolate mousse in a piping bag and pipe into desired containers. Garnish with dark chocolate shavings.
Recipe Notes
*Please calculate your OWN nutrition information in a database using the brand names. I recommend My Fitness Pal. Each brand will be different and nutrition information can vary.
Nutrition Facts
Secret Ingredient Easy Chocolate Mousse (Low Carb, Keto)
Amount Per Serving (1 g)
Calories 192
Calories from Fat 159
% Daily Value*
Fat 17.7g27%
Carbohydrates 4.2g1%
Protein 2.4g5%
* Percent Daily Values are based on a 2000 calorie diet.
What's your favorite low carb/keto-friendly sweetener? I would love to know!