An easy and delicious pizza pasta recipe that can be customized to any taste! We love it for a quick and scrumptious meal! We love making Mezetta memories. 
During the holidays we always travel to my parents, who live in Pennsylvania - not too far from us, and there are always so many people. The ages vary from adult to younger children. Since there are so many people during the holidays, everyone's taste varies, from picky to they will eat anything.
It can be a little trick during meal times, we always try to fix meals that are kid-friendly and can be adapted to each and everyone's taste. That's one of the reasons why I absolutely love this pizza pasta recipe!
It tastes just like a pizza, but so much easier. No need to worry about making dough, allowing to it rise, punching it down, and then allowing it to rise again. All you have to worry about is having pasta, preferably penne, allowing it come to a boil and cooking the pasta to your liking. Other than that, you will just need to have pizza sauce, cheese, and your favorite toppings. So easy, my friend.
You can add any toppings you love, according to each person and their tastes. We love the Mezzetta Deli-Sliced Golden Greek Peperoncini, Jalapeno Stuffed Olives, and Roasted Bell Pepper Strips.
Growing up, my family always made sure all of the children and adults were satisfied with their meals, if they weren't they always made sure they had something each person would like. Another reason why I love this recipe because it makes me think about my younger years and how my parents were. Definitely reminds me of a lot of great mezzetta memories! Who isn't picky when they are younger?
You too can make your own Mezzetta memories! You can download a $0.50 off coupon on any Mezzetta products! Hurry though because it's only available December 1st through December 31st!
Here's the best part! From now until December 31st you have a chance to win daily prizes - that means there are 31 daily prizes!
Weave in information about the Daily Holiday Gift Basket Giveaway throughout your story and encourage your audiences to enter for their chance to win daily prizes. The giveaway will run from December 1st through December 31st. That means there are 31 daily prizes!
To enter, entrants must visit the campaign landing page and enter their name, email, address and favorite holiday memory. Each day a winner will be selected at random. Prizes will be shipped within 2 weeks.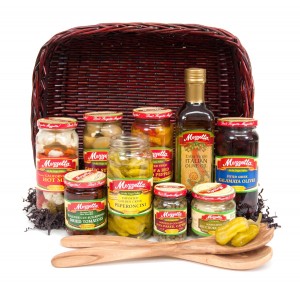 Mezzetta Favorites Holiday Gift Basket (31 Winners – Daily) includes:
• 100% Italian Estate Grown Extra Virgin Olive Oil
• Golden Greek Peperoncini
• Garlic Stuffed Olives
• Castelvetrano Olives
• Pitted Greek Kalamata Olives
• Roasted Marinated Red & Yellow Sweet Bell Peppers
• Cocktail Onions
• 1 Apron (from House Party contents)
• 1 Metal Olive Spoon (from House Party contents)
• 1 Tote Bag (from House Party contents)
• 1 Ceramic Bowl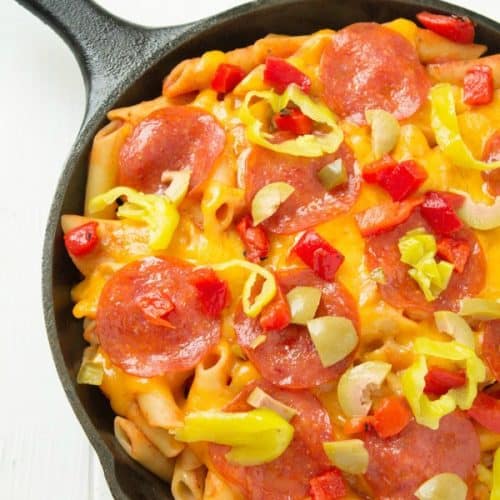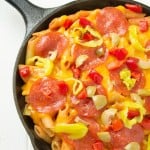 Pizza Pasta + Mezzetta Memories
Ingredients
1

box penne pasta

12

ounce

jar pizza sauce

½

cup

shredded cheese

pepperoni

for toppings (optional)

Mezetta Deli-Sliced Golden Greek Peperoncini

for toppings (optional)

Mezetta Jalapeno Stuffed Olives

for toppings (optional)

Mezetta Roasted Bell Pepper Strips

for toppings (optional)
Instructions
Prepare your pasta according to the direction on the back of the box. Mix the pizza sauce with the pasta in the same pot; draining the water, of course. Pour the mixture into a 9x9 baking dish.

Layer the toppings on top with the cheese, pepperoni, and the rest of the optional toppings. Broil in the oven on high until the cheese has melted.
 Thank you so much Mezzetta for sponsoring this post! As always, all opinions expressed here are my own.