Crispy Skillet Chicken Thighs with Lemon Garlic Orzo – Juicy, flavorful, and crispy chicken thighs seasoned lightly and fried in a skillet using a secret ingredient! You will forget about baked chicken thighs after having it this way! The lemon and garlic orzo is the perfect side dish. Made in only ONE skillet!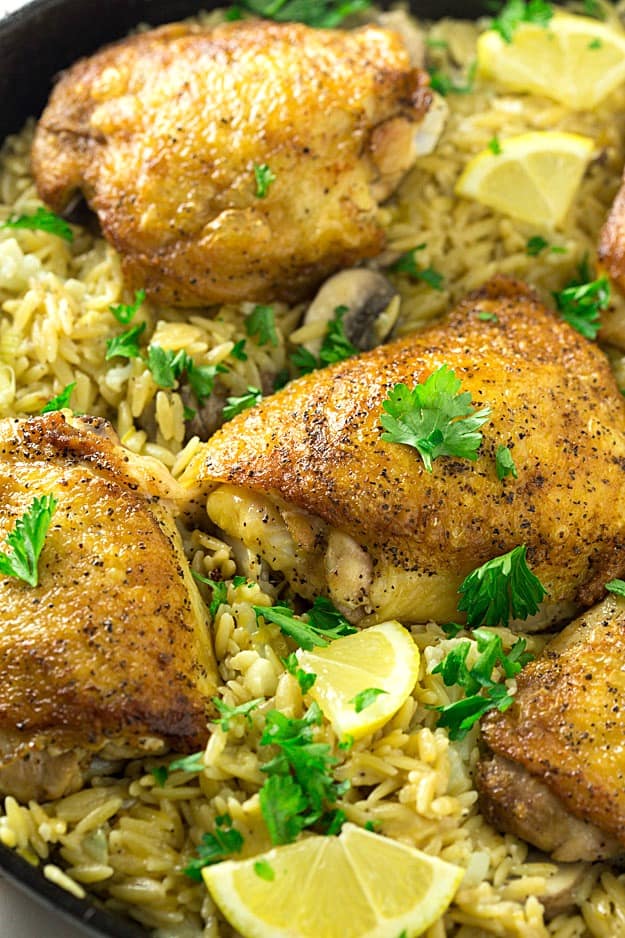 After a long day, I am always in the mood for a quick, easy, and delicious meal. What's not to love when everything is cooked in one skillet?
I was recently given the opportunity to create a chopped at home dish using cauliflower, leeks, crimini mushrooms, and Sargento® sharp cheddar fine cut shredded cheese. If you have ever watched the snow on Food Network, you may already know how it works. Our family loves the show and watching it every time it's on – most of the time! For the required ingredients you must all of them in the dish you are preparing. Now I got very lucky, and the ingredients I received were perfect for crispy skillet chicken thighs with lemon garlic orzo.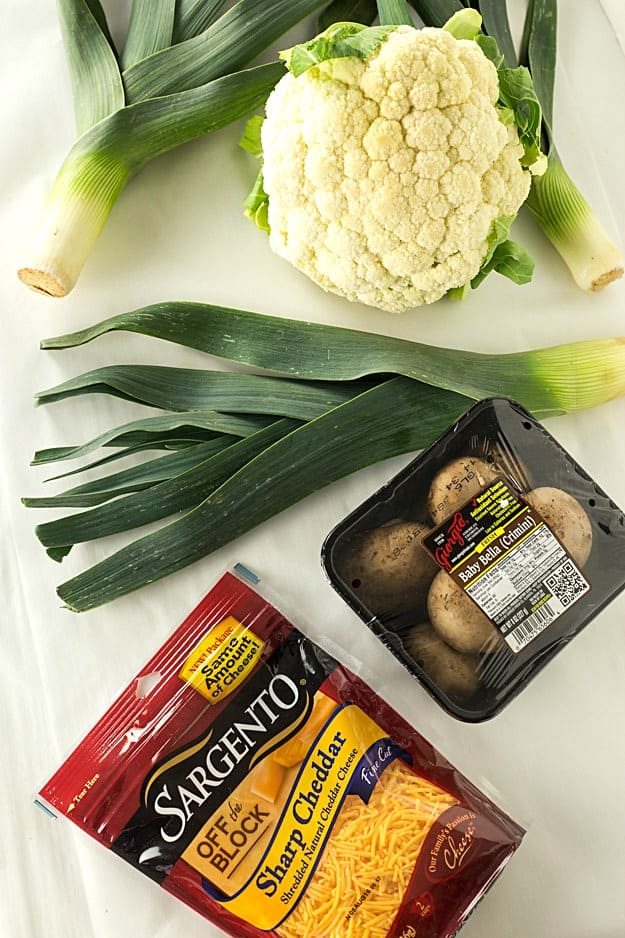 Here's a rundown of where I used the particular ingredient. First I sauteed the crimini mushrooms, garlic, and leeks in a little bit of oil until the mushrooms started to sweat and get tender. I then added fresh lemon juice, chicken stock, and then the orzo.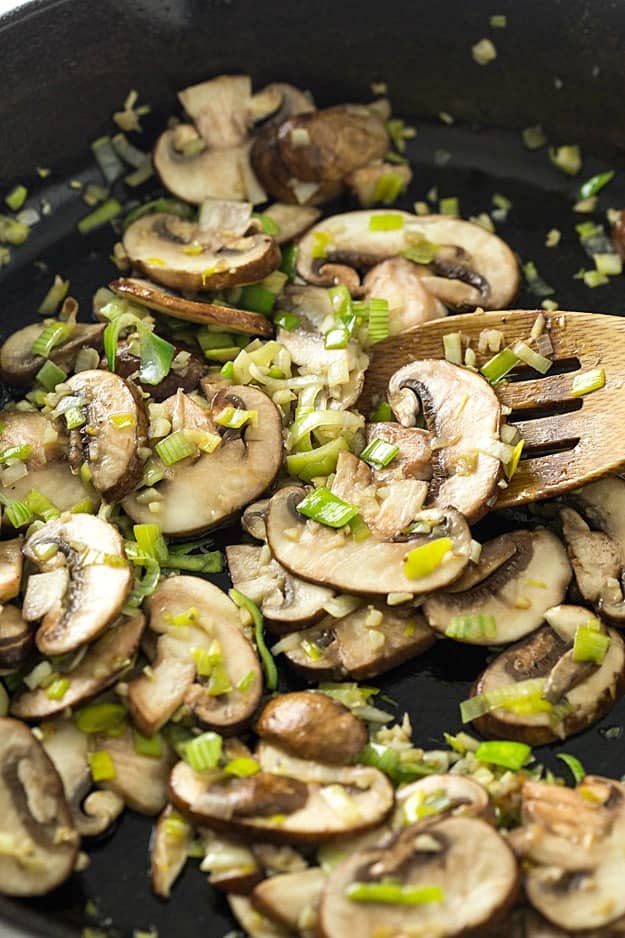 Once the orzo was almost finished, I added steamed chopped cauliflower into the mixture and then finished the orzo with salt, pepper, and Sargento sharp cheddar fine cut shredded cheese. Easy, right?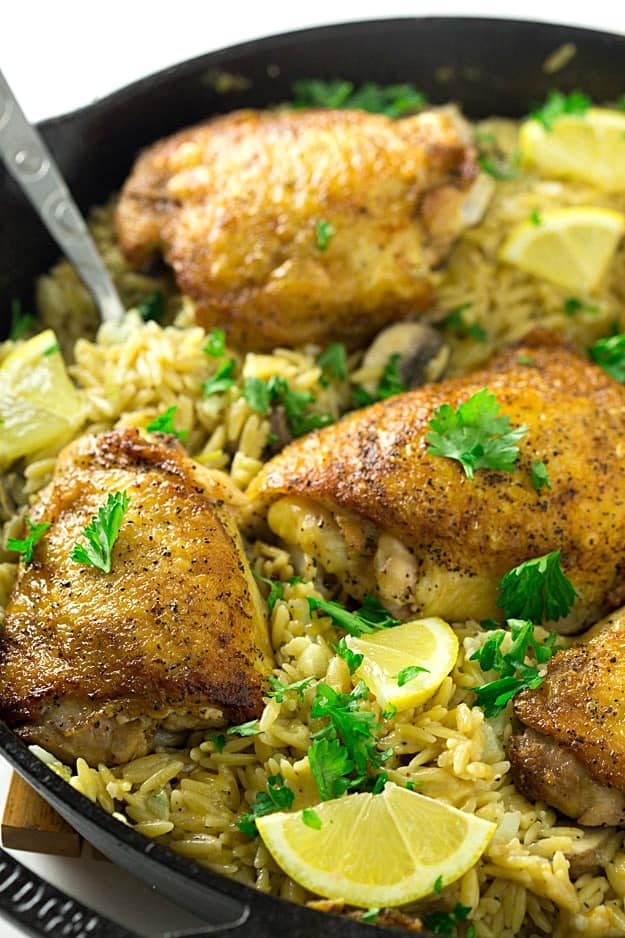 Want to know the secret ingredient I used to perfect and flavor the chicken thighs? It's bacon grease! Every time I make bacon, I always keep the extra bacon grease for seasoning my cast iron skillets and for frying chicken thighs. I love how you do not need much oil either!
Sargento sharp cheddar fine cut was perfect in the orzo and didn't overwhelm it at all. It's one of our go-to cheeses because it's cut from 100% real, natural cheese!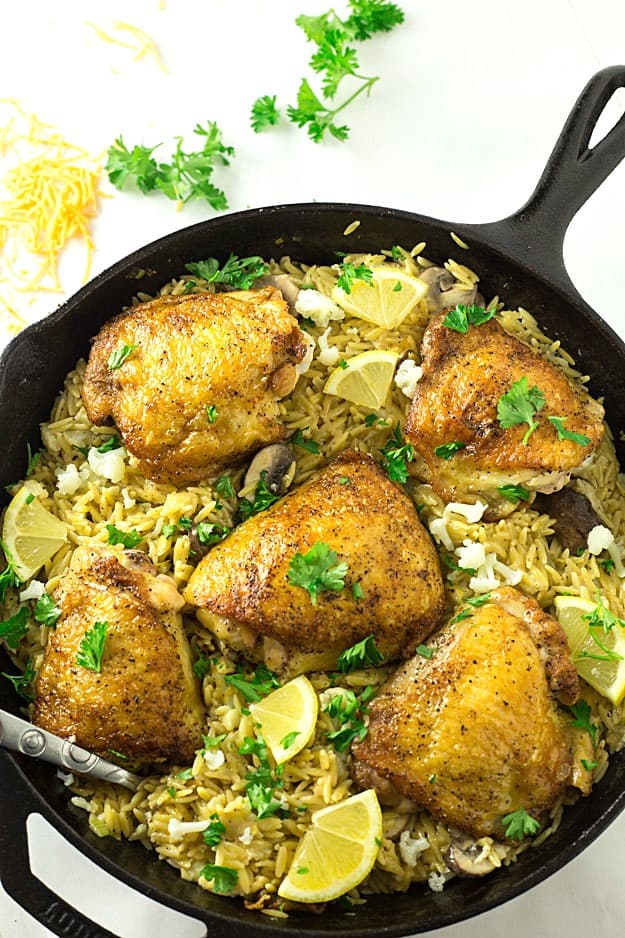 Here's to a finger-licking, mouthwatering meal the entire family will devour over and over again.
Now you too can participate at Chopped at Home challenge for the chance to win $5,000 and a trip to New York City to compete in a televised Chopped cooking challenge for a $10,000 grand prize!

Crispy Skillet Chicken Thighs with Lemon Garlic Orzo
Author:
Chelsea @ Gal on a Mission
Ingredients
Chicken Thighs
5 bone-in and skin on chicken thighs with extra skin removed
salt and pepper
2 tablespoons bacon grease or canola oil
Lemon Garlic Orzo
1 tablespoon bacon grease or canola oil
5 garlic cloves, minced
8 ounces crimini mushrooms, sliced
¾ cup or 1 large leek cleaned and finely diced*
3½ cups chicken stock
3 tablespoons lemon juice
16 ounces orzo
salt and pepper, to taste
1 medium cauliflower cut into florets then steam and chopped
1 cup Sargento Cheddar Fine Cut shredded cheese
Garnish
lemon slices (optional)
fresh parsley (optional)
Instructions
Chicken Thighs
Preheat your skillet over medium heat for 10 minutes. Add the grease or oil to the skillet. Season chicken thighs generously with salt and pepper and place in the hot skillet with skin side down. Cook for 10-15 minutes without touching the chicken thighs. Once the skin is crispy, turn the chicken thighs over and cook for another 25-30 minutes or until the chicken is cooked all the way through.
Remove from the pan and set aside. Cover with aluminum foil.
Discard the grease or oil from the pan.
Lemon Garlic Orzo
Place the grease or oil into the skillet and add the minced garlic, sliced crimini mushrooms, and diced leeks. Saute for 5 minutes or until the mushrooms start to sweat and cook down.
Place the chicken stock, lemon juice, and orzo into the skillet. Simmer for 10 minutes.
Add the cauliflower and cheese and mix. Taste and season with salt and pepper.
Place the chicken thighs on top of the orzo and garnish with lemon slices and fresh parsley.
Notes
*To properly clean the leeks: remove the dark green on the leeks, chop the light green and white root finely. Place the chopped leek into a bowl of cold water. Mix and strain the water using a strainer.
This is a sponsored conversation written by me on behalf of Sargento. The opinions and text are all mine.