Crispy Spicy Sesame Beef Recipe –  Tender and crispy beef stir-fry made with real pantry ingredients! Skip the take-out and made this instead! Add an extra cup of broccoli to make your favorite take-out dish at home!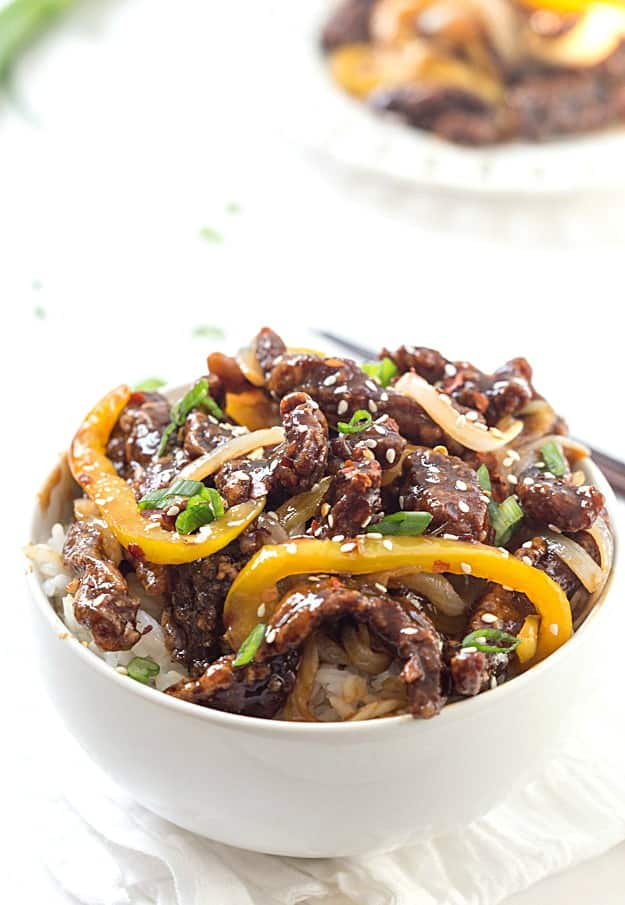 I have noticed if I do not plan out our meals or plan or developing a recipe for this blog; our go-to meals tend to be take-out, and I love Chinese food. There's something about it, maybe because of the ease.
Although lately, our favorite Chinese place down the street, our dishes come out different every time. Sometimes our dishes aren't crispy when they should be, or a bland dish when it's supposed to be "spicy". The inconsistencies are killing us because I love the ease of it.
With that being said, I thought it was about time to start making our favorite dishes at home. Some will be just as quick as take out, and the others will take a little more time, like this crispy spicy sesame beef. If crispy isn't your thing, then it's even quicker!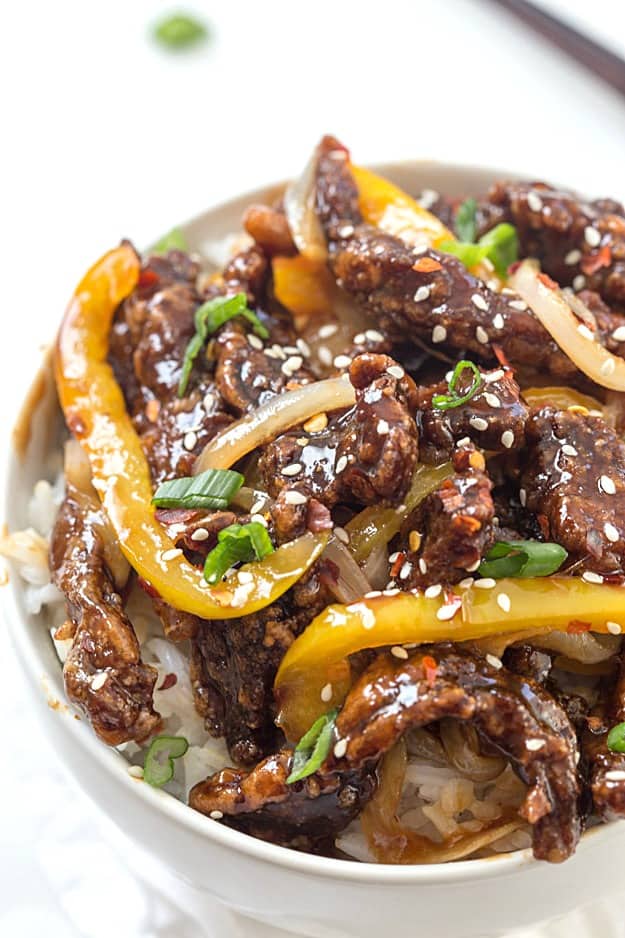 Not in the mood for beef? No worry, we have a healthy sesame chicken recipe you are going to love!
I already have a spicy sesame beef recipe on the blog, but I prefer this one because of the crispy beef. Frying the thinly sliced pieces of beef somehow makes the beef tender, and it almost melts in your mouth. Mmmm…. so good!
If you do not have a wok, I highly recommend using a smaller skillet for frying the beef in small batches. If you have smaller skillet for frying the beef in small batches. If you have fried any food before, you know to work in small batches, so they do not stick together, the same thing with this crispy spicy sesame beef. I also notice I use less oil for the frying if I use a wok or a smaller skillet.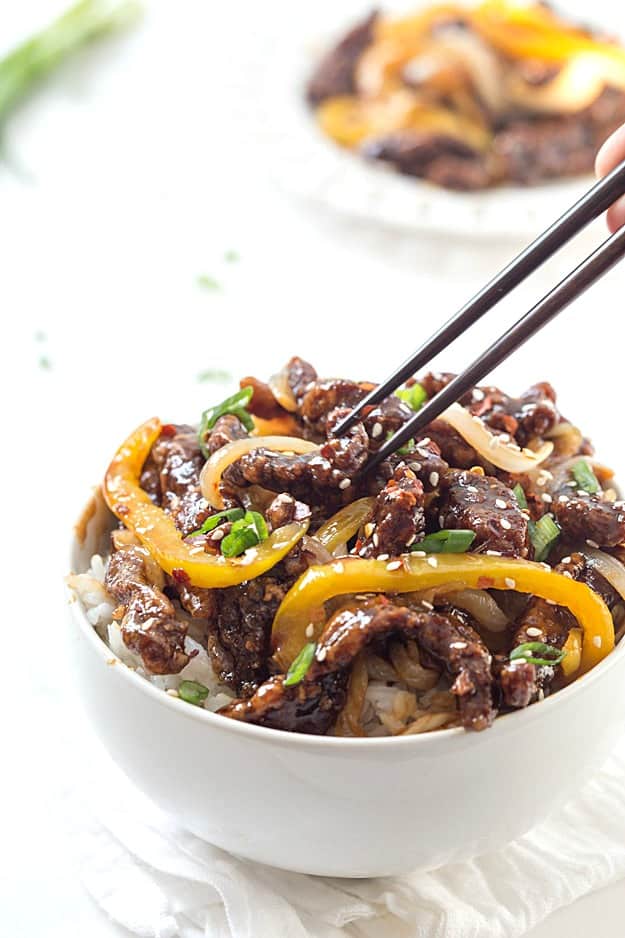 Another helpful tip for when making the beef, make sure you shake off any excess cornstarch. Trust me on this. One time I thought I shaken most of it off, I didn't, and when frying the beef the cornstarch kind of clumps into the beef.
One last tip, make sure you are using toasted sesame oil. Toasting the sesame seeds brings out a rich, deep, and delicious flavor in the oil.

Crispy Spicy Sesame Beef
Author:
Chelsea @ Gal on a Mission
Ingredients
Beef
1 pound flank or top sirloin steak sliced thinly against the grain*
½ cup cornstarch
½ cup oil
Vegetables
1 tablespoon oil
1 bell pepper, sliced into thin strips
1 medium onion, julienned
Sauce
1 cup sodium-reduced soy sauce
1 cup dark brown sugar, packed
3 garlic cloves, minced
2 cups water
1 tablespoon rice wine vinegar
1 tablespoon white vinegar
½-1 teaspoon red pepper flakes
1 teaspoon sesame oil
Instructions
Beef
Place the thinly sliced beef and cornstarch in a gallon-sized ziplock bag and shake until all of the beef strips are coated. Remove the beef from the bag and shake off excess cornstarch. Set aside.
Place the oil in a wok or smaller skillet and heat until it reaches 375 degrees F.
Working in small batches, place the beef into the oil and fry 1-2 minutes on each side. Remove the beef from the oil and place onto a paper towel-lined plate. Repeat until all of the beef has been fried.
Vegetables
Place the oil, bell pepper, and onion into a wok or a larger skillet and saute until tender.
Sauce
Whisk together the soy sauce, brown sugar, garlic, water, rice wine vinegar, red pepper flakes, sesame oil, and white vinegar together and place into the same wok or skillet as the vegetables. Simmer for 10 minutes or until the sauce is starting to thicken.
Place the crispy beef into the wok or skillet and simmer for 10 minutes or until the beef is warm and the sauce has thickened.
Notes
*I like to freeze the flank or top sirloin steak for 15 minutes prior to slicing into thin strips. It makes it easier to slice the steak.