This is a sponsored post written by me on behalf of Tyson Foods, Inc. All opinions are entirely my own. #sponsored #ad
Creamy Broccoli Potato Soup – Dinner cannot get any easier! This soup is thick, creamy, flavorful, and loaded with broccoli, tender diced potatoes, and sharp cheddar cheese!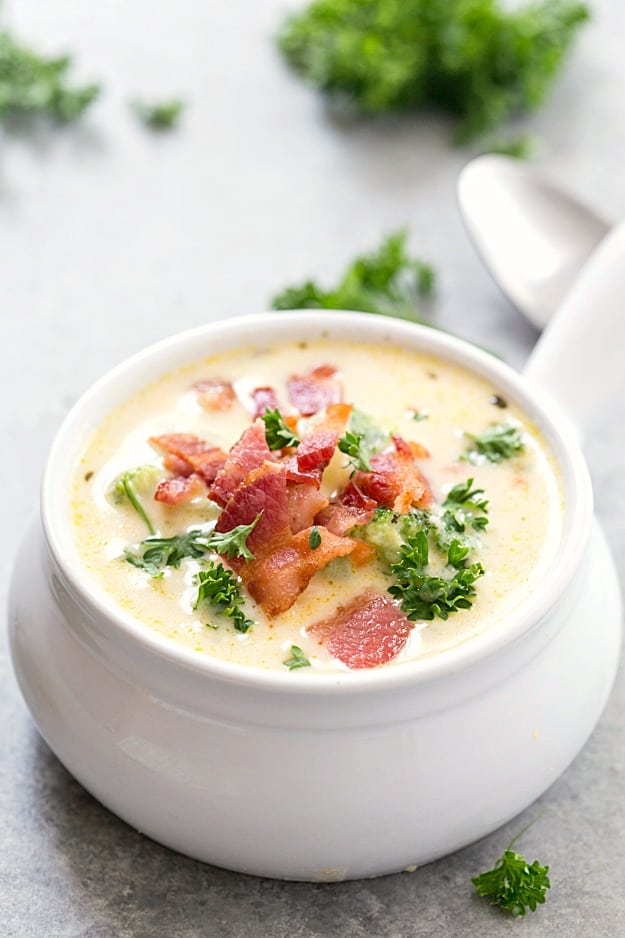 When fall starts to arrive with cold, crisp air, my family always enjoys a generous bowl of soup. We try to have it at least a few times a week because it's so easy to make, we always have leftovers, and they warm your body inside and out. With soup season being right around the corner, it has already hit here; I thought I would share one of my favorite soup recipes with you. We love it because it's flavorful, filling, and we love topping it with delicious bacon. You can have never have enough bacon, right?

As I am writing this, we are currently traveling to California and let me tell you, friends, fall has hit here. I was shocked because it's still relatively hot and humid back home. It's so chilly here at night, and we have been craving a big bowl of this Creamy Broccoli Potato Soup!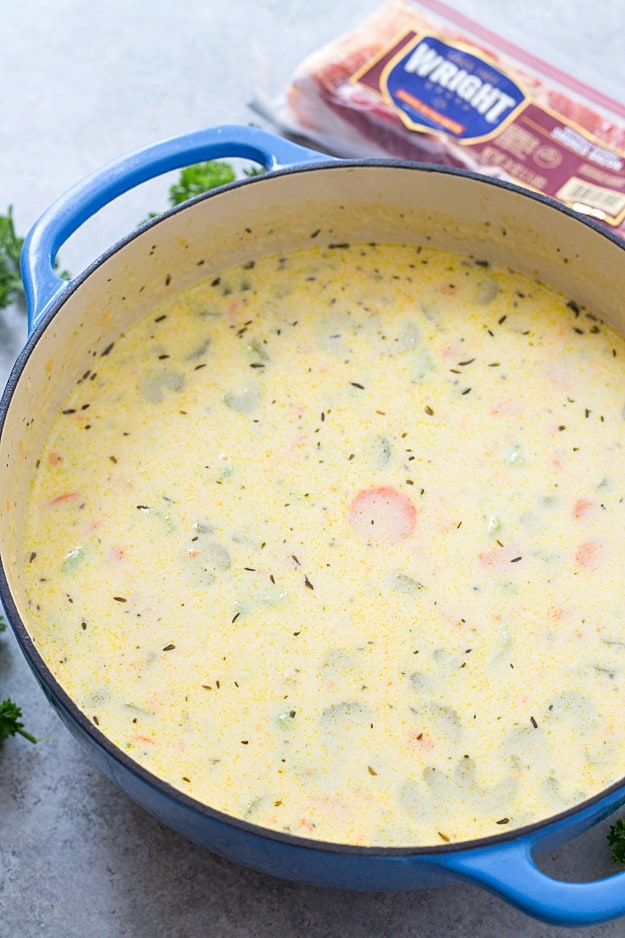 The base of this soup starts with onions, carrots, and celery to give it flavor and then I added minced garlic when the onions were almost translucent. Then I added chicken stock, you can use store-bought or even homemade; then I seasoned it. Added the diced potatoes to the mixture, you are welcome to use any potato you prefer, I used russets, and then the broccoli. You want to wait to add the milk and flour after the potatoes and broccoli are tender. Once you add the milk and flour you will want to allow your soup to simmer for 10 minutes, then add your shredded sharp cheddar soup. I have tried this with mild cheddar cheese before, but we prefer the sharp. And the last part is mixing in your cream. 

See how easy this soup is and the best part is you can have it on your dinner table in 30 minutes! That's my kind of meal.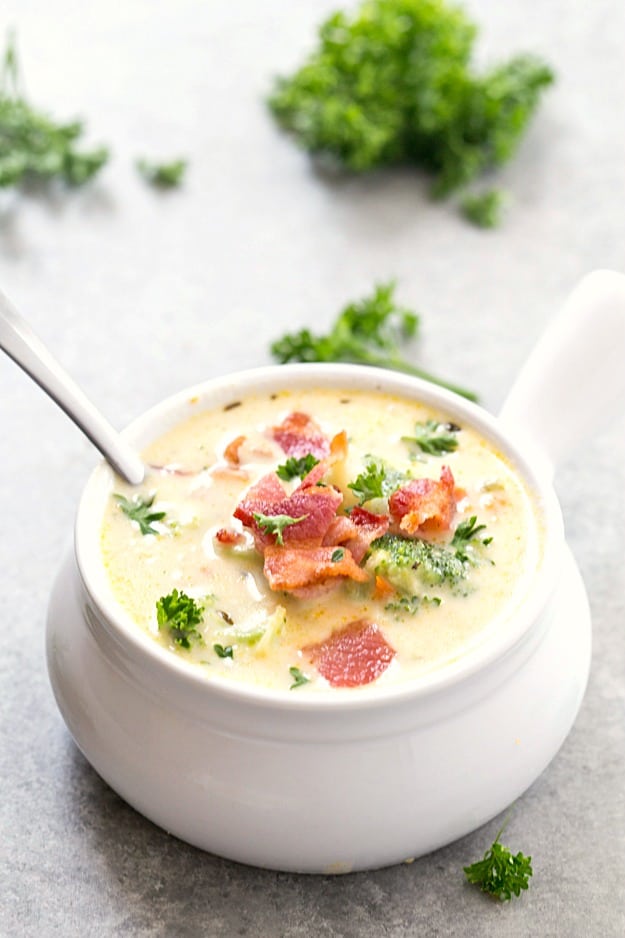 Our favorite toppings for this soup is bacon. While I was shopping at my local Food Lion, I thought I would try a new kind of bacon for us – Wright® Brand Bacon in the Hickory Smoked flavor. It's the best bacon we have tried because it is thick-sliced, high-quality, and a perfect ratio of fat and meat. Everything we look for in bacon! Later we learned it was naturally smoked with wood chips, hand-selected, hand-trimmed, and beautifully crafted for a richer bacon experience. It was so good by itself! You can also find Wright Bacon Brand in Applewood Smoked, Smoked Brown Sugar Bacon (next on my list to try), Bourbon Barrel Smoked, and Oak Barrel Smoked. It truly is Bacon The Wright Way™.
Creamy Broccoli Potato Soup
Author:
Chelsea @ Gal on a Mission
Ingredients
3 large carrots, peeled and finely diced
2 celery stalks, finely diced
1 medium onion, finely diced
3 cups chicken stock
½ teaspoon dried thyme
salt and pepper, to taste
3½ cups (3 medium potatoes), peeled and finely diced
16 ounces frozen broccoli
3 cups milk
6 tablespoons all-purpose flour
8 ounces shredded sharp cheddar cheese
1½ cups heavy cream
Garnish :
Hickory Smoked Wright Brand Bacon, cooked and diced
fresh parlsey
Instructions
Place a large soup pot or dutch oven over medium heat. Place the oil, carrots, celery, and onions and simmer for 5 minutes or until the onions are translucent.
Add the chicken stock, thyme, and season with salt and pepper.
Place the potatoes and broccoli into the soup and cover for 20 minutes.
Whisk together the milk and flour and mix it into the soup, simmer for 10 minutes.
Add the cheese and mix together until the cheese has melted.
Add the heavy cream and mix. Serve.
Garnish with bacon and parsley.
Share your favorite recipe featuring bacon and tag it with #VoteWrightBrandBacon! @wrightbacon. Vote for your favorite bacon flavor at:
www.votewrightbrandbacon.com