Pulled Pork Nachos – Fall off the bone pulled pork on top of tortillas with shredded cheese, then loaded with diced tomatoes, salsa, sour cream, and cilantro!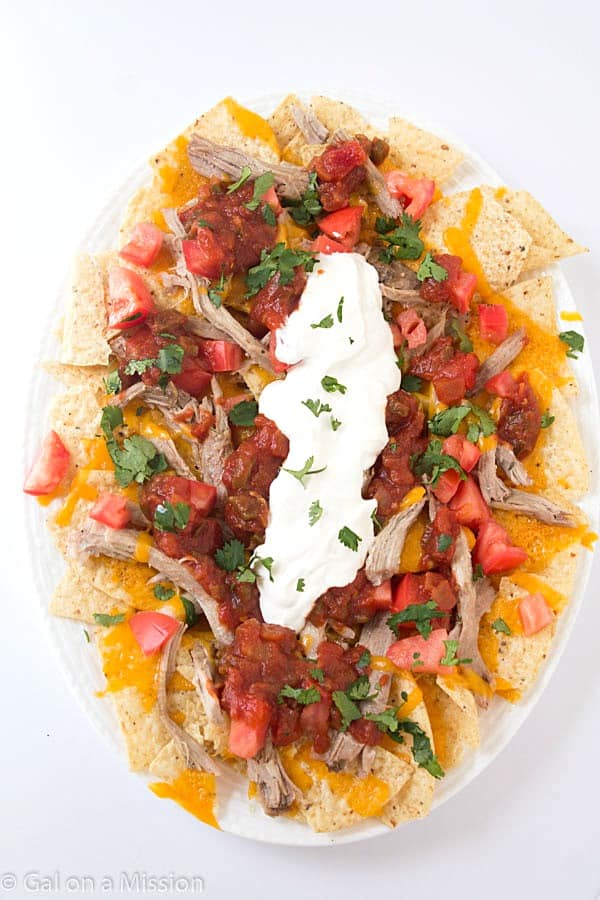 Calling all of my friends out there who love nachos! You are going to love these and they are incredibly easy. Make a platter or two, you'll have more than enough pulled pork to go around.
The other day, we purchased two pork roasts for pulled pork nachos and pulled pork sandwiches. Both of which we love. Cannot get enough pulled pork. You too? Well you're in luck today, my friend.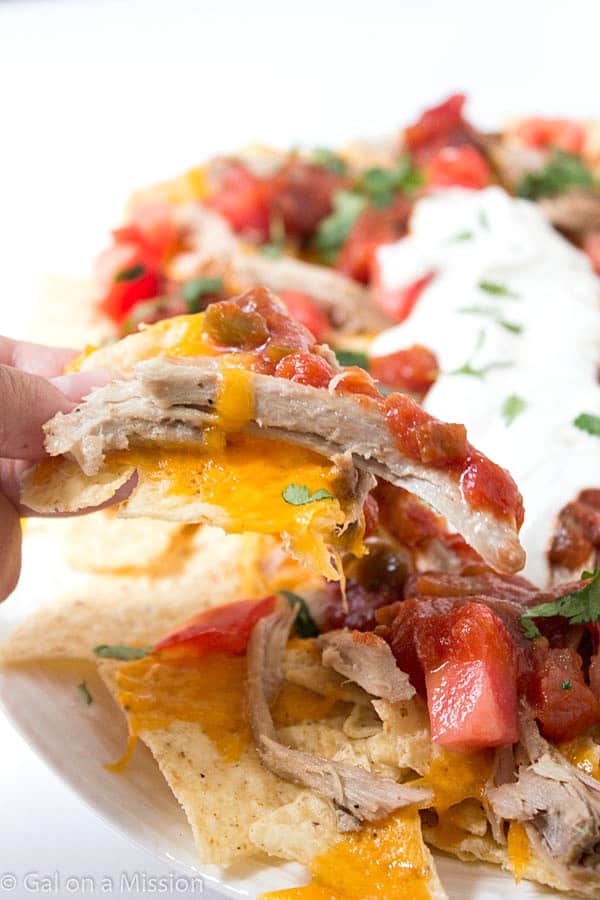 You know what would be really great? Smoked pulled pork. Now my mouth is starting to water. There is a fantastic barbecue place within walking distance to us and they have the best barbecue I have ever tasted. It's a little hole in the wall place, which are usually the best. They haven't been around for long, but everyone is loving their food. If it was up to me we would have it every-other-day. It's that darn good!
For my pork shoulder, I cooked it long and slow in the slow-cooker for 8 hours. I kept the spices very minimal, but just enough to enhance the pork. Before I placed the pork shoulder into the slow-cooker, I rubbed it with dried oregano, cumin and olive oil. To the slow-cooker, I added onions, garlic, salt and pepper.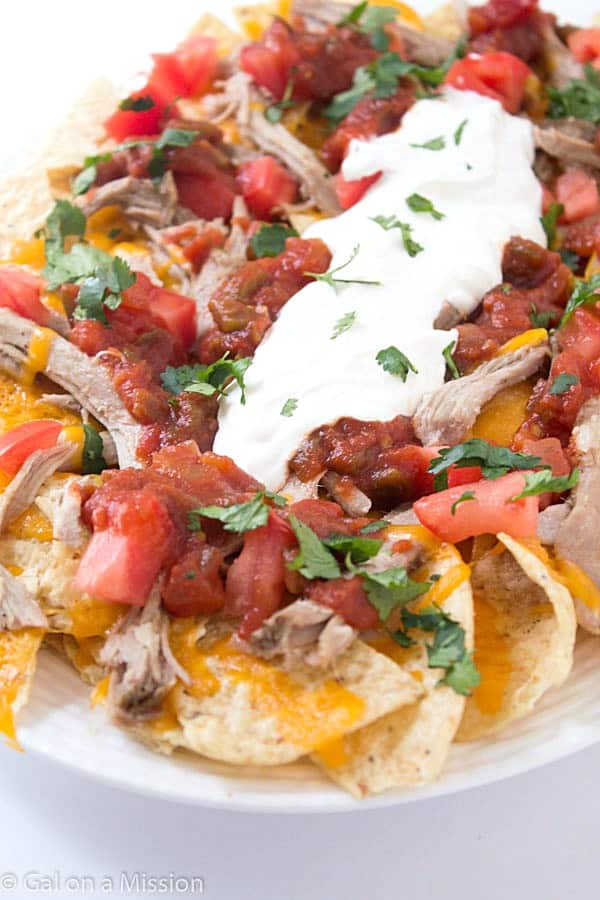 I will have to warn you ahead of time, your house is going to smell AMAZING. Nothing like opening your front door and being hit with a strong aroma of pulled pork. Yummy.
With the toppings, you will notice there isn't a specific amount. Add as much as you would like.

Pulled Pork Nachos
Author:
Chelsea @ Gal on a Mission
Ingredients
Pulled Pork:
5 pound pork shoulder
1 tablespoon dried oregano
3 teaspoons cumin
1 tablespoon olive oil
1 onion, diced
2 teaspoons salt
1 teaspoon pepper
4 garlic cloves, minced
Nachos:
Tortilla Chips
Shredded Cheese
Pulled Pork
Diced Tomatoes
Salsa
Sour Cream
Cilantro
Instructions
Pulled Pork:
Mix together your dry rub: dried oregano, cumin and olive oil. Rub the spices on the pork shoulder. Place the pork shoulder into a 6-quart or more slow-cooker. Add the diced onions, salt, pepper, and garlic cloves. Cook on low for 8 hours or high for 4 hours.
Allow the pork to cool, then shred.
Nachos:
Preheat oven to 375 degrees.
Add a layer of tortilla chips on an oven-safe platter, top with shredded cheese and pulled pork. Bake until the cheese has melted. Top with diced tomatoes, salsa, sour cream and cilantro.