No-Bake Snickers Granola Bites Recipe –  So much easier than granola bars! The perfect healthier snack or on-the-go treat made with old-fashioned oats, peanut butter, and honey as the base. Made without flour and white sugar!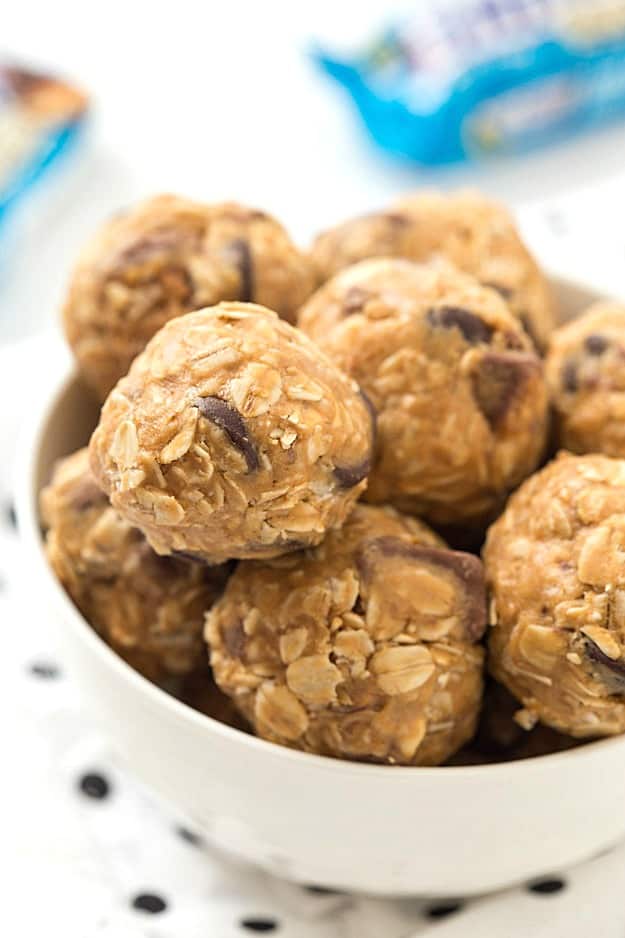 Have you ever had a craving come on so hard that you must make it that moment? I seem to have those a lot, and I cannot get my mind to focus off of it no matter what I do. That's why no-bake desserts, especially no-bake granola bites are perfect when you need something a little sweet with the perfect crunch.
For me, it's all about the crunch and these no-bake SNICKERS® granola bites have that perfect crunch.  Each bite contains a creamy texture from the peanut butter and honey and then you have the crunch of a brand new SNICKERS® Crisper bar chopped and dark chocolate chips.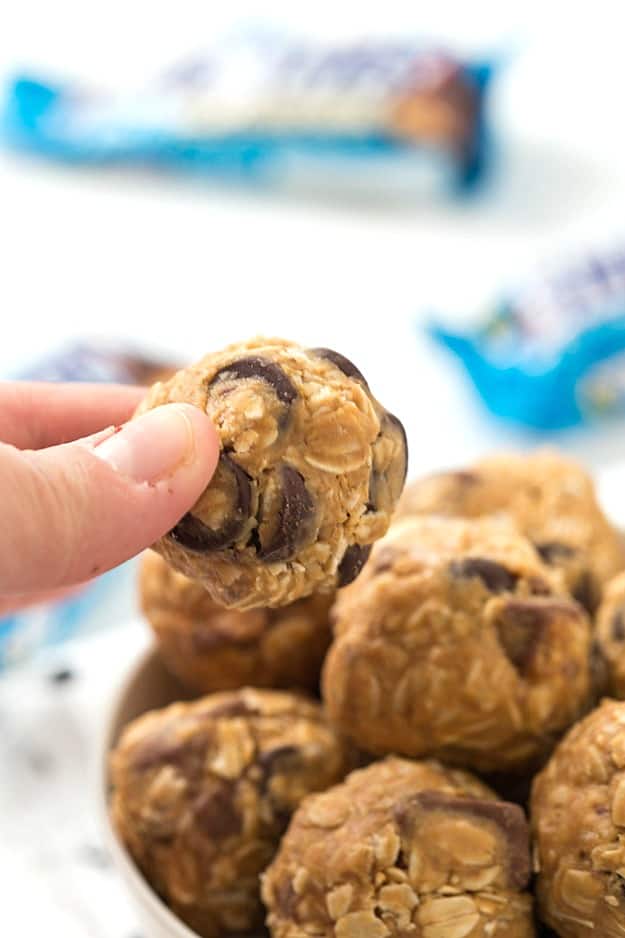 If you have never made no-bake granola bites before, you are going to be shocked at how easy they are! The best thing about these no-bake granola bites is how versatile they are. You can add anything you would like to them besides the SNICKERS® Crisper and dark chocolate chips. As long as you keep the old-fashioned oats, the honey, and the peanut butter.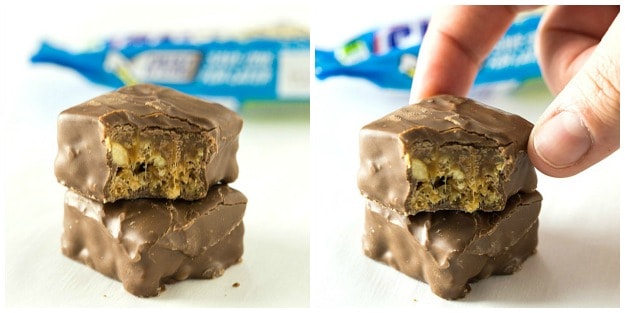 I decided to use the new SNICKERS® Crisper bar instead of the regular SNICKERS® is because these are under 200 calories per serving – a single pack includes two squares at less than 100 calories each. How great is that? It makes these the perfect healthier snack for on-the-go or when that craving hits. I also love the many different textures the bar offers. It delivers that crispy, crunchy satisfaction in the form of crisped rice and peanut, topped with a layer of caramel and coated in creamy milk chocolate.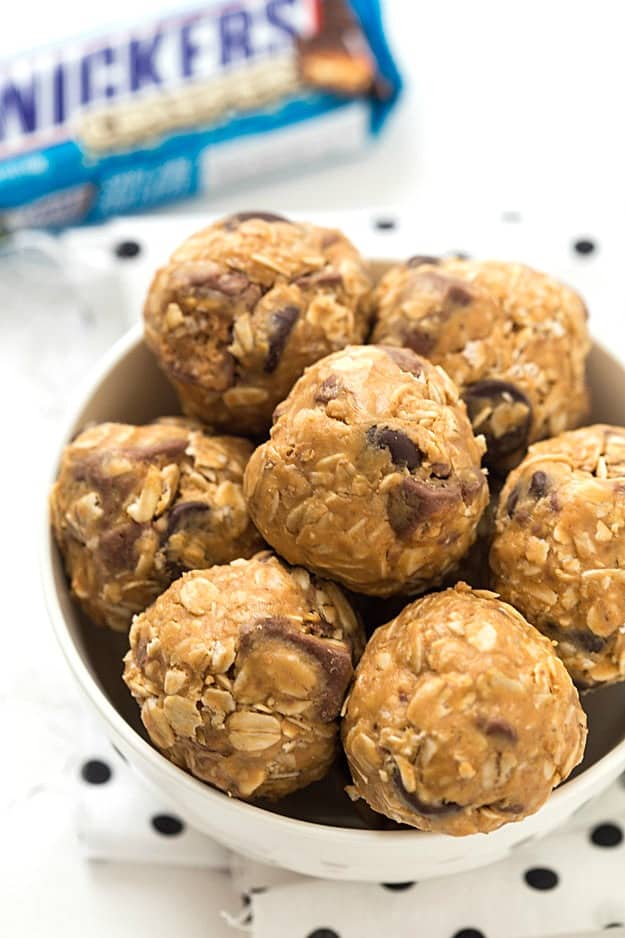 Lucky you! Enter to win a sample of SNICKERS® Crisper! Contest ends 2/10/2016. Enter by commenting your favorite way to enjoy SNICKERS®! Some ideas are when the sugar cravings hit, while watching a movie, etc.!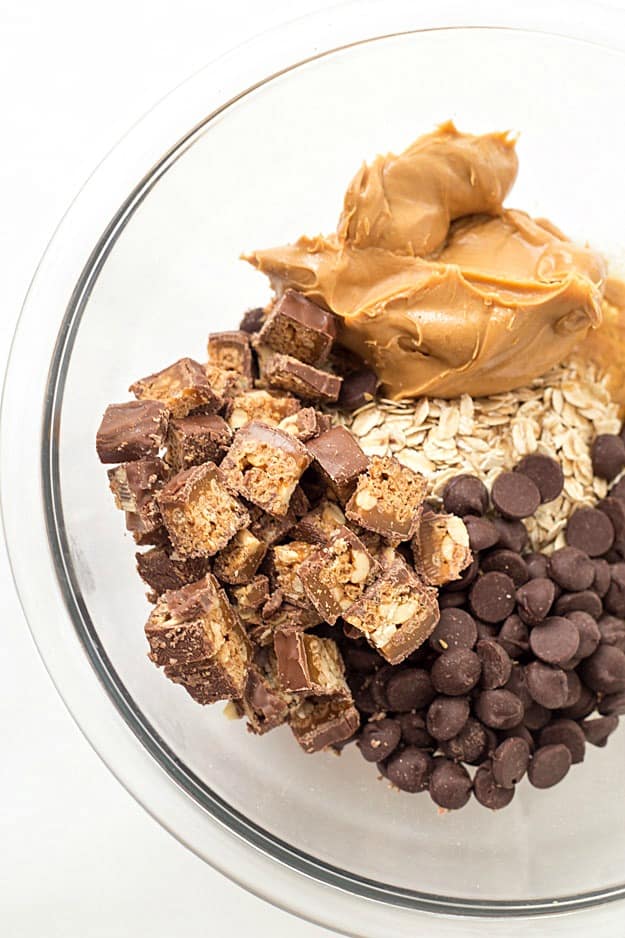 For more information on SNICKERS® or the new Crisper variety, fans can visit SNICKERS® on Facebook or Twitter.

No-Bake Snickers Granola Bites
Author:
Chelsea @ Gal on a Mission
Ingredients
1¼ cup old-fashioned oats
¼ cup honey
½ cup creamy peanut butter
¼ cup dark chocolate chips
6 SNICKERS® Crisper squares, chopped
Instructions
Cream together the old, honey, and peanut butter in a medium mixing bowl.
Place the dark chocolate chips and chopped SNICKERS® Crisper and gently fold until mixed.
Cover the mixing bowl with plastic wrap and place into the refrigerator for at least 30 minutes.
Place parchment paper on top of a baking sheet.
Scoop the mixture using a medium cookie cup and gently roll into a ball. Place onto the lined baking sheet. Repeat until there is no mixture left.
Place the baking sheet in the refrigerator for 30 minutes. Store in an airtight container in the refrigerator.
I was selected for this opportunity as a member of Clever Girls and the content and opinions expressed here are all my own.