Mouthwatering mushroom zucchini quesadillas that are loaded to the max with fresh veggies and oh, so cheesy! Ready under 20 minutes!
I haven't had quesadillas in a long time. Okay, about 4-5 months and I think that is really a long time. What do you think? When's the last time you had quesadillas?
Now that I've established that I haven't had them in a long time, I think we can start to talk more into details of this one. They are amazing!
Sometimes, I really just want a nice vegetarian dish and this one is definitely a winner. Even the hubby was satisfied - he's a meat and potatoes kind-of-guy.
For these, I used mozzarella cheese. Please use any kind of cheese that you have on hand or that you would prefer. I love the mozzarella because it's one of my favorites and the cheese is really stringy - I love it!
This year, I didn't have a chance to get any zucchini planted in the garden and I really miss it this year! Instead, we planted a lot of tomato plants and we are now swimming in them. We are having a quart of salsa about everyday or every other day. Summer, my friend is amazing.
I think I will have my fresh garden salsa recipe perfected by the end of this month. Each batch tastes so different and I love them all. Hard to share 20-30 different recipes for salsa - LOL.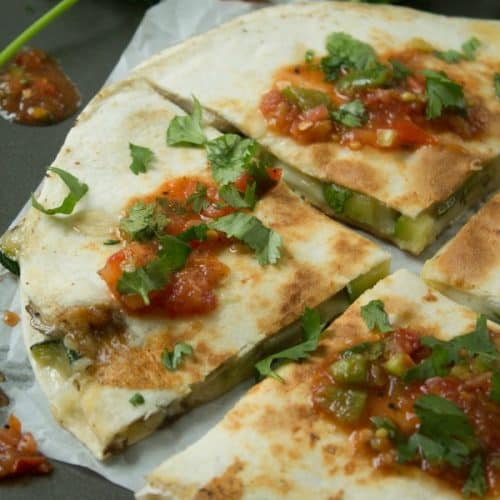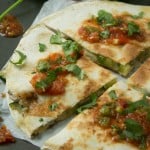 Mushroom Zucchini Quesadillas
Ingredients
1

medium zucchini

sliced and quartered

4

ounces

mushrooms

sliced

1

tablespoon

butter

pinch

of salt and pepper

¾

cup

mozzarella or any type of cheese you prefer

shredded

4

flour tortillas

Serve with cilantro and salsa

or any condiments you prefer
Instructions
Prepare the veggies by slicing the zucchini and mushrooms. Heat the butter in a large skillet over medium heat. Add in the veggies and saute for 5-7 minutes or until the zucchini is tender and the mushrooms are golden brown.

Wipe the skillet clean with a paper towel lightly. I didn't do it too much because I still wanted a little butter left in the skillet. Place one tortilla in the skillet and sprinkle in ¼ of the cheese, then add in the mushroom zucchini mixture (divide it in half), then top with another ¼ of the cheese. Place another tortilla on top and the first tortilla should be getting a little browned. You will need to press your spatula against the top tortilla to help it stick. Flip the quesadilla over. Allow the quesadilla to brown for 2-3 minutes.

Remove and cut into wedges. Repeat the steps for the other quesadilla.