A super easy and absolutely delicious cheesy sausage freezer breakfast burrito recipe that the whole family will love! 
I am fairly new to the the idea of freezer meals. I always knew what they were, but I never really took advantage of them. I always used to think, "Why on earth would someone just cook for their freezer. They are nuts!" I would rather cook and enjoy the meal at the same time.
People do not let me be the only one out there to think that! I certainly hope I am not. As I really thought about the concept, it started to make sense in my young brain.
Even though we have no children yet, I am going to try to utilize our freezer a lot more with delicious meals. It might seem like a lot of work when you are doing everything at the time, but it will pay off in the future - trust me!
With having delicious meals in your freezer, you can almost completely kick take-out to the curb because you know there is always something ready. It might just need to be nuked or baked. That's it, no prepping, just heating and enjoying.
When I was thinking of different meals, I knew that I wanted to make some kind of breakfast burrito for the freezer because the hubby is always running out to get something quick for breakfast on-the-go. Having McDonald's isn't the healthiest option out there and it really adds up fast!
I know you guys will love these cheesy sausage breakfast burritos because they are amazing! Very filling and very tasty.
Just the other day, I made a batch of homemade taco seasoning and added it to the eggs while they were cooking and it really made a big difference in flavor. I had a batch with and without and we love the ones where I added in the taco seasoning.
I guess you can also call them cheesy taco sausage freezer breakfast burritos. Now that's a mouthful to say. I found out that if you nuked them for 1 minute and 30 seconds they are warm and delicious. I set it for 30 seconds and then flipped them and repeated it three times.
Does your family enjoy freezer meals?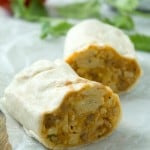 Cheesy Sausage Freezer Breakfast Burritos
Ingredients
8

ounces

ground sausage

1

cup

diced green peppers

12

large eggs

2

tablespoons

homemade taco seasoning

1

and ½ cups shredded cheddar cheese

8 to

rtillas
Instructions
Prepare your sausage filling by adding the ground sausage into a large skillet and cook on medium-heat until it is done. Drain and blot with a paper towel to get rid of the extra grease. Set aside in a large bowl.

In a small pan, add in your green peppers and cook on low-to-medium heat until they are tender.

With a paper towel, wipe the skillet you cooked the sausage in and add in your eggs and lightly beat them. Add in the homemade taco seasoning and cook until they are scrambled. When done, mix everything in the skillet.

Prepare to wrap your burritos by placing a sheet of foil on your counter, place a warmed tortilla on top and add in ⅛th of your filling. Wrap the burritos and wrap the foil around. Repeat until all 8 burritos are done.

Place wrapped burritos in a ziplock bag and freezer for up to 6 months.